"I'm very impressed. My curls are defined and my hair is moisturized and super soft."
NO MORE BAD HAIR DAYS!
Only powerful natural ingredients that nourish your hair
No harsh chemicals that dry out your hair
No flakes
Paraben-free
Cruelty-free & Vegan
Handcrafted in small batches
Made from curly women for curly women
Try it today and experience that confident happy feeling of defined, lush curls!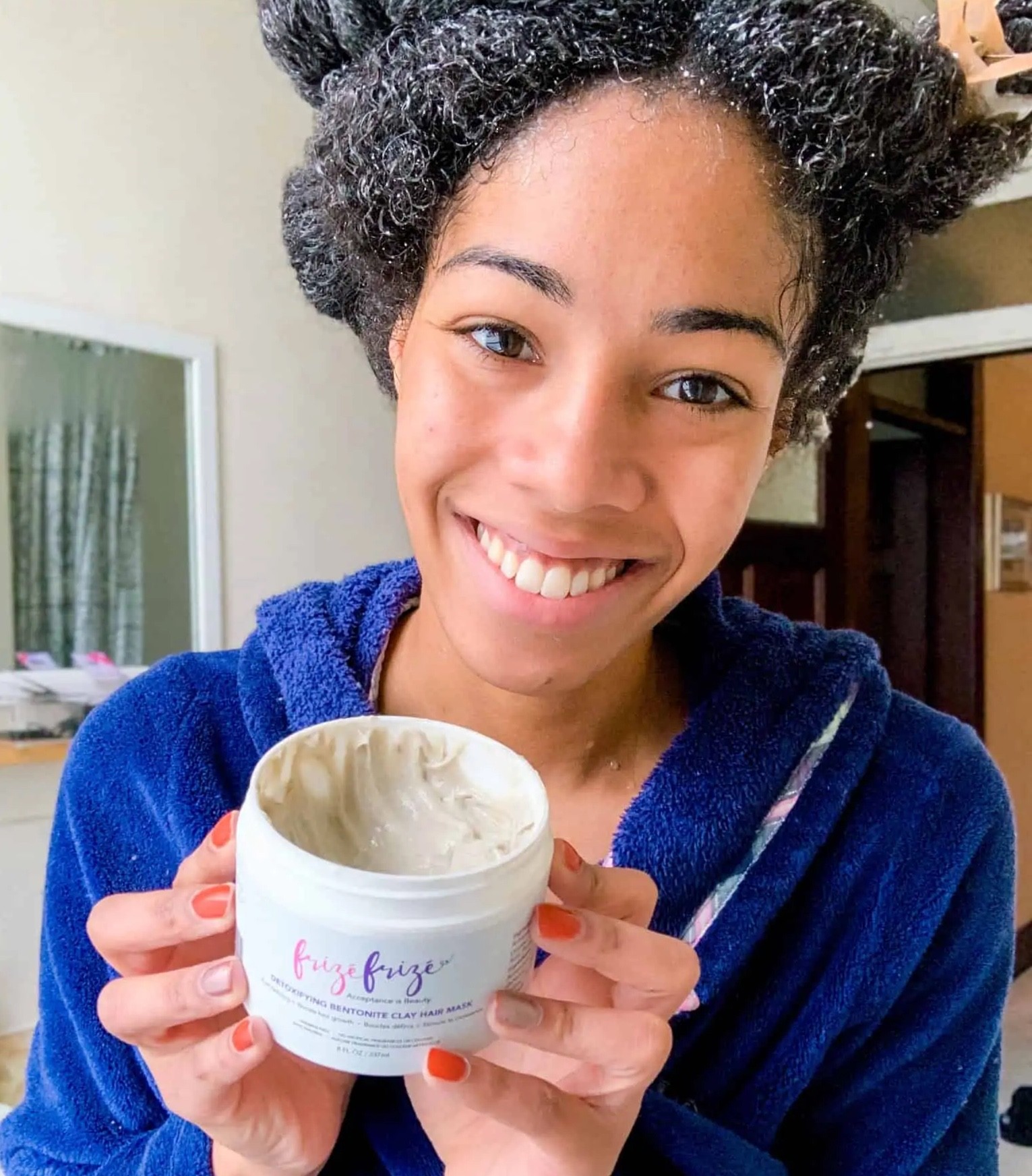 INGREDIENTS
Aqua, Trigonella Foenum-Graecum Seed Extract, Prunus Armeniaca (Apricot) Kernel Oil, Orbignya Oleifera Seed Oil, Simmondsia Chinensis (Jojoba) Seed oil, Bentonite, Emulsifying Wax NF, Cetearyl Alcohol, Glycerin, Citric Acid, Panthenol, Phenoxyethanol, Tocopherol, Essential Oil.
HOW TO USE
Apply on sectioned wet and clean hair from root to end. Can also be applied on body.
Health. Happiness. Acceptance. Joy.
RADIATE PURE JOY AND HAPPINESS WITH ONE QUICK APPLICATION.
Every woman looks her best when she's happy. For that reason, our products are designed to give you that look of health, vitality, happiness, and joy. After shampooing and rinsing your hair, as usual, separated it into four sections if you have thick hair and liberally apply the bentonite clay mask. The result? An all-natural look that shows off your unique beauty in less than 20 minutes.
What are people saying about the Detoxifying Bentonite Clay Hair Mask?
"I love it"

Christelle N.

"Love this, your hair is moisturize and easy to style"

Antoine H.

"I was looking for a way to pamper myself and my hair at home, and this bentonite hair mask did the trick. Great smell, easy application and softer, more healthy hair after one use. Recommended!"

Kristine H.

"I use it on my toddler's hair because she has different curl patterns and textures. Different areas of her hair are drier than others especially in the winter. This is a life saver. It softens her hair, makes detangling easy which makes doing her hair less of a headache for us both. I highly recommend this product."

Sandy E.

The best product I have ever used It was worth every penny i spend on it, I totally recommend this product to everyone. Enjoy

Temi A.

"One thing I loved about the Frize Frize mask, was that it wasn't only bentonite clay. The blend of ingredients seemed to help keep my hair hydrated. After I rinsed the product out, my curls were definitely more shiny and defined. It felt like my hair was a clean slate to better receive my styling products!"

Comfygirlwithcurls
Top